We look forward to welcoming you to Ultrasound Care. We are always happy to answer any queries you may have, just give us a call at your preferred location. You may also find any answers you need here.
Please click here to fill in an appointment request. We will reply asap to arrange an appointment with you.  Alternatively, please call your preferred location to book your appointment.
What to bring to your appointment
Your referral form or letter
Please bring the referral form or referral letter which was given to you by your referring doctor. The referral form provides us with valuable information which could help towards an accurate diagnosis. Also, it will enable you to be eligible for a Medicare rebate. We accept all types of referrals including those addressed to other ultrasound practices, they are still valid for a Medicare rebate.
Alternatively, click here to provide us with your referral form via our website.
Any previous ultrasound examinations, x-rays, CT scans or MRIs
If you have had any previous imaging examinations, we recommend that you bring the relevant reports and images along with you as this information is useful to us.
Allergies we should be informed about
If you are allergic to any antiseptics or medical products, please bring the name of the product and tell the sonographer before your examination so that we can use alternative products.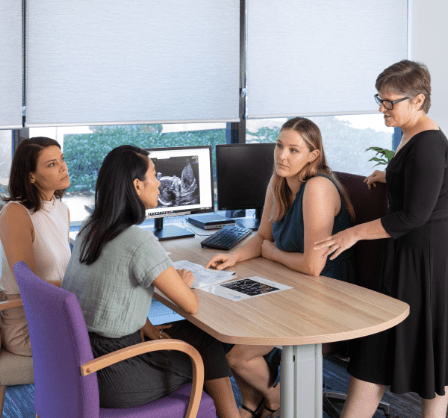 What to wear to an appointment
Please wear any clothes that you feel comfortable in.
Preparation for your appointment
Trans-abdominal Examinations
For trans-abdominal examinations it is useful to have a comfortably full bladder. You do not need to be overfull, so please empty your bladder if it is becoming uncomfortable.
Trans-vaginal Examinations
For trans-vaginal examinations you will be more comfortable with an empty bladder. All our scanning rooms have en-suite bathrooms so you can easily go to the toilet. No special preparation is necessary except for removing a tampon if you are using one. Pessaries do not need to be removed. You don't need to wash or shave in any special way.
Please don't feel embarrassed. All of the sonographers in the practice are female and we always keep you completely covered during the examination. If you need them, we have spare pads and tampons in the bathrooms for your convenience.
Please let us know if you feel stressed
If you have previously had a stressful experience at an ultrasound examination, please discuss it with your sonographer before the examination, or ask your doctor to call one of our specialists at Ultrasound Care. We will then be able to address your concerns and make sure you have a better experience this time.
Billing and cost structure
Ultrasound Care is a private practice that specialises in obstetric and gynaecological imaging. Our team of sonographers and specialists are highly qualified and use the most up to date technology.
Ultrasound Care offer many different types of pregnancy and pelvic ultrasound examination, which all have a different fee and different Medicare rebate.  Please contact our friendly receptionists to find out what the fee will be for your examination.
We accept all methods of payment including EFTPOS, credit cards include American Express and cash.
Should you need to cancel your appointment, please give us at least two days notice if possible, to enable us to offer your appointment to patients on the waiting list.